Radio Host Francesca Luca Brings Women's Issues to the Airwaves
Posted Sep 21, 2016 at 8:51 AM
Updated Sep 21, 2016 at 8:51 AM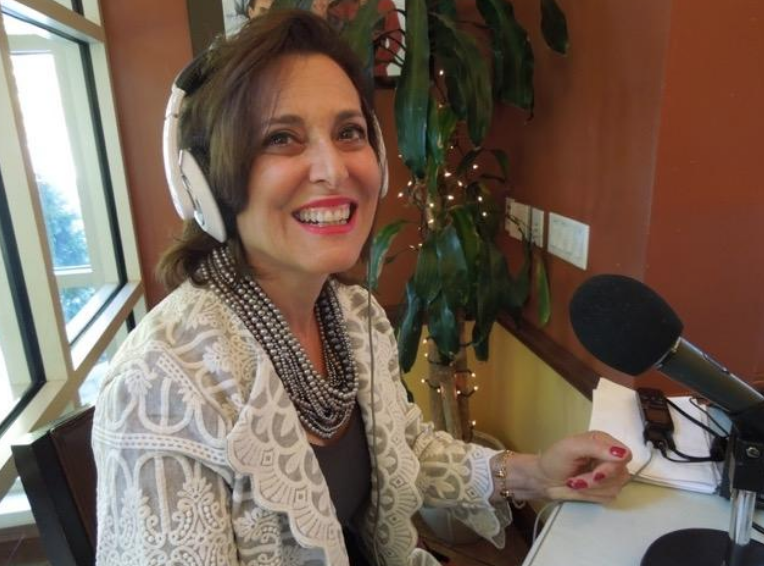 By Mary Reines
mreines@wickedlocal.com
Nahant resident Francesca Luca is a big personality on local airwaves. With her insatiable curiosity and bubbly persona, Luca has hosted her radio show, "Talk with Francesca," since 2002. It currently airs on WBIX AM1260 The Buzz, WMEX Radio, 106.1 FM WNBP and North Shore 104.9 FM.
"My show is continually evolving around topics that are geared toward women," Luca said of her program. "I've had some really high-profile guests."
Some of Luca's past guests include Kurt Vonnegut's son, Mark Vonnegut, a Quincy-based pediatrician, Maria Tatar, a children's literature and folklore expert and TV personality Dr. Phil McGraw.
"Honestly he was very dry, totally different personality on TV," Luca said of Dr. Phil.
Luca broke into the radio business when her friend, radio host Ron Van Dam, invited her to be a guest on his morning show on WXBR in Brockton. At the time, Luca owned a dating service called Friendship Caught Fire, and she came on the show to talk about relationships. Soon she became his co-host and filled in for him when he went on vacation. Eventually she was offered her own show.
"I started doing a live show on Sunday afternoons," Luca said.
On "Talk With Francesca," Luca uses her voice to focus on psychological and sociological issues through a feminine lens. Some of her recent shows include "Girls and Sex, Navigating the Complicated New Landscape with Peggy Orenstein," "Sisterhood and Addiction with Melanie Berliet" and "How to Spot a Liar with Pam Meyer." This month she interviewed Dr. Joseph Burgo author of "Why Do I Do That?" to discuss the former Congressman Anthony Weiner's apparent inability to stop sabotaging his career and his family over sexts. For October, which is Breast Cancer Awareness month, Luca will be interviewing Dr. Ernie Bodai, creator of the only 55 cent stamp for breast cancer.
"I like to interview people who have accomplished something unique," Luca wrote in an email.
One of Luca's favorite interviews was with Kevin Weeks, former accomplice to Whitey Bulger. She was fascinated that someone could go on to lead a normal life after participating in horrific crime.
"I found that remarkably interesting," she said.
Luca said that a good host is "not afraid to express strong opinions and challenge people." When speaking with Weeks about the film "Black Mass," she noticed that he was upset about being portrayed as a "mindless" goon. When she asked Weeks about his relationship with Bulger, he became upset because he felt that Bulger had betrayed him, and he didn't understand why.
She told him a story about a snake in the woods that convinces a man to pick him up. Even though the man knows the snake will bite him, the snake finally persuades him, and bites him anyway.
"Look at what you're dealing with," Luca recalled saying to Weeks. "I may have offended him," she said.
Luca also enjoyed speaking with Dr. Christiane Northrup about the relationship between mothers and daughters, with a particular focus on narcissistic mothers.
"There's this common misconception that all mothers love their children, and all mothers don't," Luca said. "There are many many women out there that don't have mothers. The mother was just not capable because of her own issues that were unresolved."
Luca is passionate about being a radio host and said that it's a "ton of work."
"You're not gonna go home at the end of the day and forget about your work," she said. "You need to have a complete love of broadcast."
She is constantly brainstorming new guests and show topics, and finding ways to keep the show interesting. She can't be boring and she can't worry too much about others' opinions.
"What other people think of you is none of your business," Luca said.
Above all, Luca said it's important to be honest and open.
"Don't ever be afraid to say how you feel," she said. "Allow yourself to be who you are… That is the quickest easiest way to become a well-known host."
Learn more about Luca and hear her shows at www.talkwithfrancesca.com.
---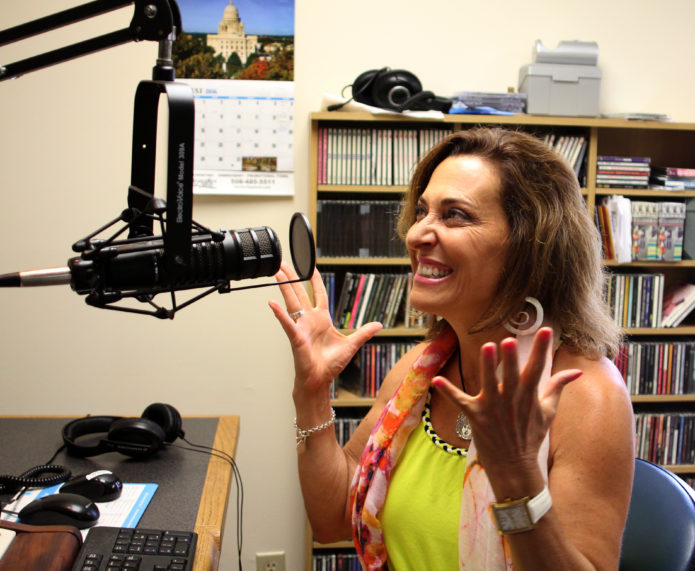 LENDING HER VOICE FROM NAHANT
Francesca Luca is the host of "Talk With Francesca," which airs every Saturday on WBIX, The Buzz. Item Photo by Owen O'Rourke
By Bill Brotherton
NAHANT — Francesca Luca's dad wanted her to go to secretarial school.
"I don't want to be a secretary. I want to be a hairdresser," she'd tell him. He'd get mad. "Then I decided I didn't like hairdressing. I quit. He was even more upset because I quit," Luca says.
Can you guess what her first real job was? Yup, she was a secretary for Johnson & Johnson.
But it didn't last long. It lacked excitement. It lacked challenges. It lacked practically everything Luca wanted from life.
We're chatting in the living room of Luca's Nahant home, which offers breathtaking views of the ocean from a large picture window. Dudley, her 12½-year-old Bichon Frise, is asleep on the couch, his tiny frame snuggled against a pillow. "Dudley has a strong personality, he takes after his mommy," says Luca, with a laugh. "He's a real alpha dog. Dudley would visit nursing homes with me. But he got confused by the tennis balls on the bottom of the walkers. I had to stop bringing him along."
Luca's life is filled with excitement and challenges these days. As the host of "Talk With Francesca," which airs on WMEX, Newburyport's WNBP and other radio stations, she has found her passion. Well, one of her many passions.
"I wake up at 5. I'm so excited, so motivated to get up and start the day," she says.
Luca was born in Lynn and lived briefly in Saugus. But when her dad Frank got a job on the South Shore the family — mom Carmela and Francesca's seven siblings — moved to Scituate, where Luca grew up and graduated from high school in 1976. She is the middle child. "Of course, I had to interview the woman who wrote a book about being a middle child," she says.
In 2002, Luca's radio career began at WXBR in Brockton, when Ron Van Dam invited her to join him one day a week on his talk show to chat about relationships. In the 1990s, Luca was the highest ranking sales manager for the Together dating service. She eventually started her own dating service, Friendship Caught Fire, and Frame of Mind, a coaching service for singles.
"I loved being a matchmaker. I'm always still trying to fix up people," she says.
Before long, Luca was offered her own show. "Talk With Francesca" was born.
She says the show features provocative conversation and intriguing stories that inspire. "The topics I choose are related to women. I like to educate. I like to help people heal in some way."
Under her picture in the Scituate High yearbook, a classmate wrote "From the heart she speaks."
Past shows have centered on subjects as diverse as "How to Spot a Liar," "Girls and Sex: Navigating the Complicated New Landscape" and "When She Makes More Money Than You." Dr. Phil was on to talk about Type 2 diabetes. Authors shared their expertise on overcoming addictions, dealing with rejection and how to bring about positive and permanent change.
Talk radio is just one of her passions:
Each January, she emcees a Joslin Diabetes Center fundraiser in the North End.
She's a certified yoga therapist and former owner of a women's wellness center.
She paints and is an advocate of healing through the visual arts, participating in the Massachusetts General Hospital's "Illuminations" project. Her art is vibrant and full of color. She has shown her work often and used to have a studio in the Lydia Pinkham Building. She studied Expressive Art Therapies at Lesley University. "Art is very therapeutic. I've always had a hard time staying within the lines. I'm much more of an abstract painter."
She's wild about interior design and thinks it might play a larger role in her future. She and her then-husband bought an old, dilapidated Victorian in Swampscott that needed extensive renovations. "It was quite a challenge," she says. Their efforts won an award from the Swampscott Historical Commission in 2007.
Luca operates a consulting/public relations company, Luca Enterprises, that nurtures and guides up-and-coming radio hosts. She placed "The Fantasy Bros," two guys who won more than a million bucks from DraftKings who will host a fantasy football show, on WBIX.
She plays tennis and treasures spending time with her "awesome, very supportive" friends.
That's a pretty full plate.
"I always wanted to be successful. I did not want to have a bunch of kids. Even in school, I wanted to get out into the world and make money.
"I do my own thing. My mom always would say 'Francesca marches to the beat of a different drummer.' I still do."
Her mom grew up in Lynn, her dad in Salem. They met at General Electric Co. at 17, and married at 20. Both were important influences. "My dad became a barber, but he wanted more." With no college education, he took a job as a salesman with a food broker, gradually working his way up to a top management position. "He was very successful, but always was embarrassed about not going to college. At 60, he went to UMass.
"Above all, my dad was a talker," Luca says.
What's that expression about an apple not falling far from the tree?
---
Murder, sex, topics of new Patriot Ledger blog
Posted Dec 27, 2011 @ 09:25 AM
Last update Dec 27, 2011 @ 09:51 AM
QUINCY —
Former Bulger kingpin Kevin Weeks and a real-life Dominatrix sit down for a talk with Francesca.
Scituate native and local radio talk show host Francesca Bastarache shares her insightful and thought-provoking advice, commentary and intriguing interviews on her new blog: Francesca's Notes of Life.
Francesca's debut as a Patriot Ledger Community Blogger featured a post called: "Welcome Home Dark Side" about her interviews with convicted ex Whitey Bulger main man Kevin Weeks and former Manhattan Dominatrix Melissa Febos.
Francesca describes them as: "Two entirely different human beings yet they both have embraced their dark side." She admonishes: "The best part of embracing our dark side, is then we can be accepting of others".
You can listen to the full interviews on her new blog: Francesca's Notes of Life, or tune in every Sunday from 3 – 4 pm on AM 1510, WWZN Revolution Boston.
Other posts concern the human experience in a category she calls "Life" one post talks about that constantly annoying person that everyone seems to have experienced at one time or another.
"If you have been pulled into someone's problem and you're tired of it, you need to realize that you have dug a hole here and you need to dig your way out."
Brockton area listeners remember Francesca as a popular host on WXBR on Wednesdays from 12-1 PM.
Francesca seems to have been destined for a career talking about life and relationships, in her Scituate High School yearbook: "from the heart she speaks".  She has an unassuming, unpretentious, down-to-earth manner that is quite refreshing and distinguishes her from the many self-absorbed know-it-all type talkmasters that just seem to want to rant.
Francesca is like an old friend, but don't let her warm and subtle style fool you, she can drill down and find out what we want to know.  She says: "I have the ability to understand people – to know where they are coming from.  I need to know what makes people tick."
Beyond talk, her favorite form of expression, Francesca studied Expressive Art Therapies at Lesley University in Cambridge, with Betty Carr at the Scottsdale Artists' School in Scottsdale, Arizona and attended Massachusetts College of Art and Design.
Her paintings, mostly impressionistic flowers, are part of  "Illuminations", a rotating art exhibit housed in the waiting areas of the Massachusetts General Hospital Cancer Center in Boston.   She currently donates 50% of the proceeds of her artwork to the ASPCA.
Francesca promises more intriguing material to come, I especially like the jucy topics, but won't spill the beans, you will have visit her blog or tune in next Sunday yourself.  At least she is warming up the AM dial on the weekend, God knows we don't need another gardening show.
You can catch her latest posts on our "bloggers" page, Patriot Ledger Blogs
Jonathan Shubow is the Interactive Operations Manager for GateHouse Media New England and an occasional contributor, he can be reached at: jshubow@wickedlocal.com
Read more: http://www.patriotledger.com/topstories/x550230667/Murder-Sex-She-Talks#ixzz1hsAQbcsf